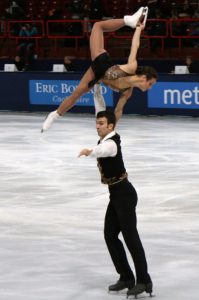 Meagan Duhamel of Sudbury, Ontario and Eric Radford of Winnipeg, Manitoba won the bronze medal on Saturday in pairs figure skating in Skate America in Lake Placid, New York. For Duhamel and Radford it was their second International Skating Union grand prix medal of the 2017 season as they also won the gold medal at Skate Canada in Regina, Saskatchewan last month.
Duhamel and Radford had 215.68 points. Aliona Savchenko and Bruno Massot of Germany won the gold medal with a score of 223.13 points. Xiaoyu Yu and Hao Zhang of China won the silver medal with 219.20 points. Yu and Zhang had a very entertaining skate as they performed to the sound track of Star Wars.
Duhamel and Radford reached the podium by 17.79 points over Natalia Zabiiako and Alexander Enbert of Russia. Duhamel and Radford had the best short program score of 75.37 points, but fell to third place after the long program when they were unable to execute a throw.
Duhamel and Radford will next represent Canada in Nagoya, Japan from December 7-10. The other Canadian figure skaters who will be competing in the seniors competitions are Canadian Olympic gold medalists Tessa Virtue and Scott Moir of London, Ontario in ice dance and Kaetlyn Osmond of Marystown, Newfoundland in women's singles.
Savchenko and Massot along with Yu and Zhang will also be in Nagoya in the pairs final. They will be joined by reigning world champions Sui Wenjing and Han Cong of China, along with two Russian pairs–Evgenia Tarasova and Vladimir Morozov along with Ksenia Stolbova and Fedor Klimov.