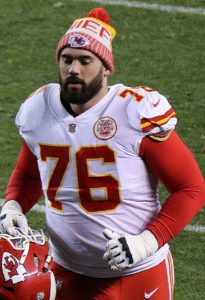 Dr. Laurent Duvernay-Tardif of Saint-Jean-Baptiste, Quebec has decided to sit out for the 2020 National Football League season with the Kansas City Chiefs. That is because he is needed more for his work at a long-term care facility near Montreal, Quebec.
According to Jill Martin of CNN, Duvernay-Tardif has decided to take the NFL opt-out option for this season. As a result, he will only make $150,000 instead of $2.75 million. Duvernay-Tardif is the only NFL player to opt-out of his contract for the 2020 NFL season to date.
In 2019, Duvernay-Tardif started 14 regular season games for Kansas City as an offensive tackle. He then started all three games for the Chiefs in the 2020 NFL postseason. Kansas City then won their second Super Bowl in franchise history when they beat the San Francisco 49ers 31-20 on February 2.
Duvernay-Tardif graduated from the McGill University Faculty of Medicine in Montreal in 2018. He has the full backing of the Chiefs organization. Ironically, Chiefs head coach Andy Reid's mother also graduated from McGill University Faculty of Medicine.
At 29 years of age, the decision Duvernay-Tardif has made is exceptional and heroic. Let us hope he returns for the 2021 NFL season in a starting role.
The Chiefs are set to begin their season September 10 when they host the Houston Texans. There are currently 58 243 cases of coronavirus in Quebec with 5663 deaths.