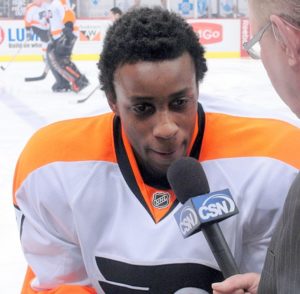 The New Jersey Devils traded right winger Wayne Simmonds of Scarborough, Ontario to the Buffalo Sabres for a conditional fifth round draft pick in the 2021 National Hockey League Entry Draft on Monday according to nhl.com. The pick becomes a fourth round draft pick if Simmonds plays 10 games and the Buffalo Sabres qualify for the Stanley Cup playoffs.
In 61 games with the Devils, Simmonds has eight goals and 16 assists for 24 points. He is a -17 with 64 penalty minutes, nine power play points, one game winning goal, 110 shots on goal, 29 faceoff wins, 26 blocked shots, 128 hits, 24 takeaways and 17 giveaways.
The Sabres become Simmonds's fifth National Hockey League team. In addition to the Devils, he has played for the Los Angeles Kings, Philadelphia Flyers and Nashville Predators.
Simmonds is also known for his leadership. While with the Flyers and Predators in 2018-19, he won the Mark Messier Leadership Award. Simmonds was recognized for being a board member of the Ed Snider Youth Hockey Foundation.
Making the playoffs in 2019-20 is going to be a challenge for the Sabres. They currently have a record of 29 wins, 25 regulation losses and eight losses in extra time. At 66 points, Buffalo is in fifth place in the Atlantic Division and are six points back of the Toronto Maple Leafs for a playoff spot.