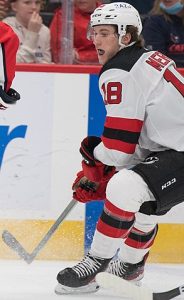 New Jersey Devils center Dawson Mercer of Carbonear, Newfoundland recorded his first career National Hockey League hat trick on Tuesday. He accomplished the feat in a convincing 5-1 New Jersey Devils win over the Pittsburgh Penguins at the Prudential Center in Newark, New Jersey.
Mercer's first goal was the game-winning goal. It came at 14:23 of the first period from former first overall draft pick Nico Hischier and former Montreal Canadiens left winger Tomas Tatar to put the Devils up 2-0. Hischier was the first overall pick of the 2017 NHL Entry Draft.
Mercer then put the Devils up 4-0 with 34 seconds left in the second period. Another Maritimer, Ryan Graves of Yarmouth, Nova Scotia, and John Marino had the assists. Then at 2:52 of the third period, Mercer put the Devils up 5-0 as he scored from Michael McLeod of Mississauga, Ontario, and Hischier.
In 78 games, Mercer had 27 goals and 28 assists for 55 points. He is a +20 with 14 penalty minutes, nine power-play points, two shorthanded points, six game-winning goals, 155 shots on goal, 70 faceoff wins, 61 blocked shots, 34 hits, 21 takeaways and 34 giveaways.
With the win, the Devils improved to a record of 49 wins, 21 regulation losses, and eight losses in extra time for 106 points. They have the third most points in the NHL. The only two teams with more points are the Boston Bruins (125 points) and the Carolina Hurricanes (109 points).