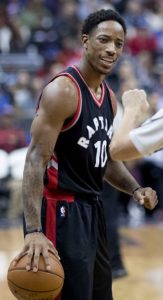 DeMar DeRozan has been named the NBA Eastern Conference player of the month for January. It is the first time this season that DeRozan has been named player of the month and third time in his NBA career.
DeRozan averaged 25.3 points per game in January and had a remarkable game to open the month of January. On New Year's Day, he scored a franchise record 52 points in a 131-127 win over the Milwaukee Bucks.
Three other times in January DeRozan scored 30 points or more. He had 42 points in a 127-125 loss to the Golden State Warriors on January 13, 35 points in a 124-115 win over the Chicago Bulls on January 3 and 35 points again in a narrow 114-113 win over the Brooklyn Nets on January 8.
DeRozan joins the great LeBron James of the Cleveland Cavaliers as the only two players this season who have been named the Eastern Conference Player of the Month. James was named the Eastern Conference Player of the Month in November and December. The three winners of the Western Conference Player of the Month this season has so far been James Harden of the Houston Rockets (November), Russell Westbrook of the Oklahoma City Thunder (December) and Stephen Curry of the Golden State Warriors (January).
The Raptors meanwhile have won their last two games. They beat the Portland Trail Blazers 130-105 on Friday and the Memphis Grizzlies 101-86 on Sunday. Toronto is currently at 36-16 and two games back of the Eastern Conference leading Boston Celtics. The Raptors and Celtics collide at the Air Canada Centre on Tuesday.