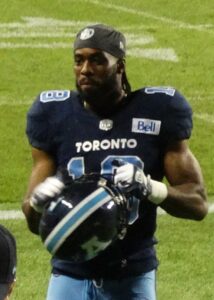 Week 13 is now complete for the Canadian Football League. Two Canadians on a winning team found the end zone. They were wide receiver Dejon Brissett of Mississauga, Ontario and running back Andrew Harris of Winnipeg, Manitoba. Brissett and Harris are both Toronto Argonauts. Brissett had a 26-yard touchdown catch and Harris had a two-yard touchdown run on Monday in a 41-28 Argonauts win over the Hamilton Tiger-Cats at Tim Hortons Field in Hamilton, Ontario.
Harris's two-yard touchdown run put the Argonauts up 9-0 at the time. It came with four minutes and nine seconds left in the first quarter. In the game, Harris had four rushes for 12 yards and one catch for 12 yards. On the season, he has 42 rushes for 195 rushing yards and two touchdowns, and nine catches for 82 receiving yards and one receiving touchdown.
Brissett's second half touchdown was unique because it came from running back A.J. Ouellette with three minutes and 31 seconds left in the fourth quarter. At the time, the Argonauts took a 37-21 lead. In the game, Brissett had two catches for 38 yards. In 2023, he has 17 catches for 282 receiving yards and two touchdowns. With the win, the Argonauts now improve to nine wins and one loss for 18 points and lead the East Division.