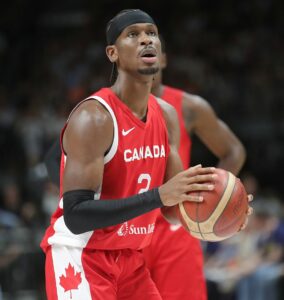 Team Canada is in the semifinals of the 2023 FIBA World Cup in the Philippines. On Wednesday, Oklahoma City Thunder guard Shai Gilgeous-Alexander of Toronto, Ontario had 31 points as Canada beat Slovenia 100-89 in the fourth quarterfinal matchup.
Four Canadians reached double digits in scoring. New York Knicks shooting guard RJ Barrett of Toronto had 24 points, while Houston Rockets small forward Dillon Brooks of Mississauga, Ontario and Minnesota Timberwolves shooting guard Nickeil Alexander-Walker of Toronto had 14 points each.
Gilgeous-Alexander in fact picked up a double-double. He had 10 rebounds, and was the co-leader for Team Canada in assists with four. The other Canadian with four assists was Utah Jazz power forward Kelly Olynyk of Toronto.
The first half of the quarterfinal matchup was extremely even. Both Canada and Slovenia scored 50 points each. It was the second half where Team Canada was dominant, as they outscored Slovenia 50-39. One player on each team was ejected during the second half. The Canadian player was Brooks, who is considered one of the top defenders in the NBA. The Serbian player was Luka Doncic of the Dallas Mavericks, who is considered one of the best players in the NBA.
Canada will next play Serbia in the semifinals on Friday. The other semifinal will have the United States versus Germany.