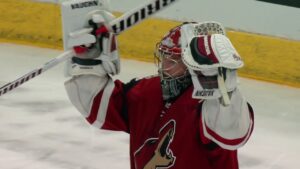 Darcy Kuemper of Saskatoon, Saskatchewan recorded his 20th career National Hockey League shutout on Saturday. He made 26 saves as the Arizona Coyotes defeated the Los Angeles Kings 4-0 at the Staples Center in Los Angeles, California.
Kuemper made six saves in the first period, nine saves in the second period, and 11 saves in the third period. Trevor Moore and Anze Kopitar led the Kings with four shots on goal each. It was a dominant game for the Coyotes, as they had 40 shots on goal as a team.
Phil Kessel and Alex Goligoski each led Arizona with two points each. Kessel had one goal and one assist, while Goligoski had two assists. The other Coyotes to score a goal were Lawson Crouse of London, Ontario, John Hayden, and Jacob Chychrun. Even though Chychrun was born in Boca Raton, Florida, he is a dual  American-Canada citizen, spent his teenage years in Ontario, and represents Canada internationally. Jacob is the son of former NHL defenseman Jeff Chychrun of LaSalle, Quebec.
This was Kuemper's 10th career shutout with the Coyotes. He also has seven shutouts with the Minnesota Wild and three with the Kings. So far this season, Kuemper has a record of nine wins, nine regulation losses, and two losses in extra time, with a goals against average of 2.38, and a save percentage of .912.
With the win, the Coyotes improved to a record of 21 wins, 22 regulation losses, and five losses in extra time for 47 points. The Coyotes lead the St. Louis Blues by one point for the final playoff spot in the West Division, but the Blues have three games in hand.