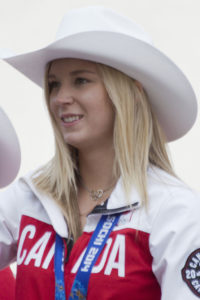 Canadian Olympic gold medalist Dara Howell of Huntsville, Ontario won the bronze medal in a women's big air freestyle skiing event in Modena Skipass, Italy on Sunday. Howell had a third place score of 151.5 points for her sixth career World Cup medal.
Mathilde Gremaud of Switzerland won the gold medal with a score of 178 points. Giulia Tanno of Switzerland won the silver medal with a score of 159.5 points. Howell reached the podium comfortably by 45 points. Johanne Killi of Norway was in fourth place with 106.5 points.
Howell, who won the gold medal in women's slopestyle skiing at the 2014 Olympic Winter Games in Sochi, recorded her second career women's big air freestyle skiing medal. Her previous big air freestyle skiing medal was a gold medal in Quebec City on March 24, 2018.
This was the first of four World Cup big air freestyle skiing events this season. The other three will be in Beijing on December 14, in Atlanta, Georgia on December 21 and in Destne, Czech Republic on February 28.
Howell missed the majority of the 2018-19 freestyle skiing season because of a torn anterior cruciate knee ligament she suffered as a result of a fall in the opening World Cup competition in New Zealand in August of 2018. The bronze medal in Italy will give Howell confidence as she prepares for the 2022 Olympic Winter Games in Beijing.