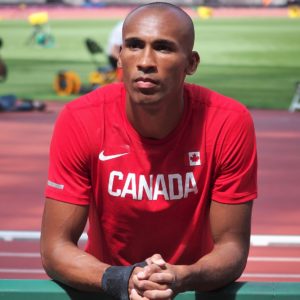 Olympic bronze medalist Damian Warner of London, Ontario won the bronze medal on Thursday at the 2019 International Association of Athletics Federation World Championships in Doha, Qatar. It was Warner's third career medal at the IAAF World Championships as he also won a silver medal in Beijing in 2015 and a bronze medal in Moscow in 2013.
Warner had 8529 points. He reached the podium by 35 points over Ilya Shkurenyov of the Authorized Neutral Athletes. Shkurenyov was in fourth place with 8494 points. Niklas Kaul of Germany won the gold medal with 8691 points and Maicel Uibo of Estonia won the silver medal with 8604 points.
Warner generated the most points in the men's 100 metres and the men's 110 metre hurdles. His time of 10.35 seconds in the 100 metres on Wednesday, was the fastest time in the competition and helped him generate 1011 points. Warner then had a time of 13.56 seconds in the men's 110 metre hurdles, which helped him generate 1032 points.
Things were looking strong for Warner after eight events. He was in third place after the pole vault and was trailing Pierce LePage of Whitby, Ontario by 24 points and Shkurenyov by 22 points. However in the javelin, Kaul had a remarkable throw of 79.05 metres, (1028 points) which helped him get into gold medal contention. Then in the final event, Kaul's time of four minutes, 15.7 seconds was by far the fastest in the field.
Warner won a bronze medal in the men's decathlon at the 2016 Olympic Games in Rio de Janeiro. The bronze medal in Doha will give Warner confidence as he prepares for the 2020 Olympic Games in Tokyo.