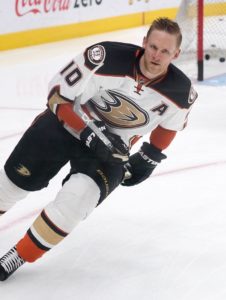 The Dallas Stars signed Canadian Olympic gold medalist Corey Perry of Peterborough, Ontario from the Anaheim Ducks on Monday. The terms of the deal are for one year and $1.5 million. Perry won a gold medal for Canada at the 2010 Olympic Winter Games in Vancouver and the 2014 Olympic Winter Games in Sochi.
Perry was limited throughout the 2018-19 National Hockey League regular season because of knee surgery. In 31 games with Anaheim, he had six goals and four assists for 10 points. Perry was also a -16 with 27 penalty minutes, four power play points, one game winning goal, 59 shots on goal, 14 blocked shots, 21 hits, 12 takeaways and 11 giveaways.
Perry has played 14 seasons with the Ducks since 2005-06. In 988 NHL regular season games, he has 372 goals and 404 assists for 776 points.
In 2010-11, Perry won the Hart Trophy. That season, he led the NHL with 50 goals, 32 even strength goals and 11 game winning goals. Perry is the only Anaheim Duck to win the Hart. A four time all-star, Perry was on the NHL's first all-star team twice.
Perry was one of three free agents signed by the Stars on Monday. They also signed Joe Pavelski from the San Jose Sharks to a three year deal worth $21 million and defenseman Andrej Sekera from the Edmonton Oilers to a one year deal worth $1.5 million.