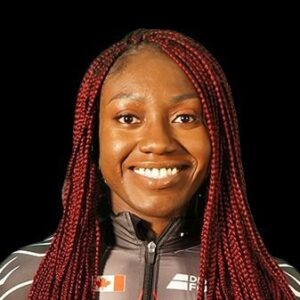 Cynthia Appiah of Toronto, Ontario won the bronze medal for Canada in an Olympic test event in women's monobob from Yanqing, China on Monday. The podium finish is significant as athletes had the opportunity to compete on the bobsled track that will be used for the 2022 Olympic Winter Games in Beijing.
Appiah posted a time of two minutes, 10.46 seconds. She reached the podium by eight one-hundredths of a second over fellow Canadian Christine De Bruin of Edmonton, Alberta. De Bruin had a time of two minutes, 10.54 seconds. Mariama Jamanka of Germany won the gold medal with a time of two minutes, 10.11 seconds. Melanie Hasler of Switzerland won the silver medal with a time of two minutes, 10.19 seconds.
Another big story from the test event is that former Canadian Olympic gold medalist Kaillie Humphries of the United States finished fifth, behind De Bruin and Appiah. Even though Humphries has an American husband and competing for the United States in the Chinese test event, she is not yet an American citizen, a requirement that is necessary to compete for the United States at the Olympic Games. Due to coronavirus, work in the United States Immigration Servixes has been significantly slow.
Humphries successfully was released from Bobsled Canada after she complained of emotional and verbal abuse from Canadian bobsled coach Todd Hays, who ironically is American. She has since won an appeal to have her allegations investigated further. Canadian Olympic gold medalist Justin Kripps of Summerland, British Columbia meanwhile has defended Bobsled Canada and praised the culture that the organization has provided their high-performance athletes. Kripps won a gold medal for Canada in two-men bobsled at the 2018 Olympic Winter Games in Pyeongchang with Alexander Kopacz of London, Ontario.