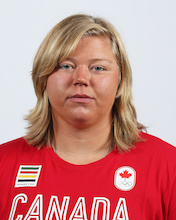 Brittany Crew of Mississauga, Ontario won the gold medal in women's shot put at the 2017 Summer Universiade in Taipei, Taiwan on Sunday. She had a shot put of 18.34 metres and helped Canada win its fourth gold medal of the Universiade.
Crew's gold medal winning shot put was 0.44 metres further than silver medalist Klaudia Kardasz of Poland who had a personal best throw of 17.9 metres. Paulina Renata Guba of Poland won the bronze medal with a throw of 17.76 metres.
Crew, a member of York University, reached the podium by 0.61 metres. Natalia Duco Soler of Chile finished in fourth place with a throw of 17.73 metres.
Even though Crew passed the 18 metre mark with ease, it was not her personal best. That came on May 20 at the Arizona Tucson Elite Classic when Crew threw a Canadian record of 18.58 metres to win the silver medal behind Monique Reddick of Edison, New Jersey, who threw 18.6 metres in winning the gold medal for the United States.
Crew competed in women's shot put at the 2016 Olympic Games in Rio de Janeiro and finished in 18th place in qualifying. She was unable to make the A Final where the top 12 shot putters from qualification advance. Crew qualified for the A Final however at the 2017 International Association of Athletics Federations Final, and finished in sixth place with a throw of 18.21 metres.
In order for Crew to make noise on the elite international stage however, it seems she will have to break the 19 metre barrier. At the 2016 Olympic Games, six shot putters reached 19 metres.