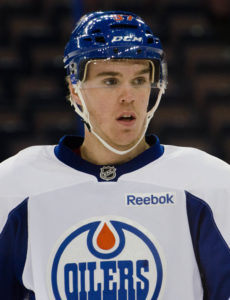 Connor McDavid of Richmond Hill, Ontario recorded his fifth career National Hockey League hat trick on Sunday. McDavid had a three goal game as the Edmonton Oilers beat the Anaheim Ducks 6-2 at the Honda Center in Anaheim, California.
McDavid scored his first goal of the game at 10:40 of the first period from Zack Kassian of Windsor, Ontario and Leon Draisaitl, which made the score 2-1 Oilers. McDavid then put the Oilers up 5-2 at 7:14 of the third period. Once again, Kassian and Draisaitl had assists. McDavid's third goal came at 13:25 of the third period from Draisaitl and Oscar Klefbom on the power play to put the Oilers up 6-2.
McDavid, Kassian and Ryan Nugent-Hopkins of Burnaby, British Columbia were three Canadians that had multi-point games for the Oilers. Kassian had one goal and two assists for three points and Nugent-Hopkins had two goals.
In 19 games in 2018-19, McDavid has 11 goals and 19 assists for 30 points. He is a +6 with 12 penalty minutes, 13 power play points, two game winning goals, 64 shots on goal, 78 faceoff wins, six blocked shots, eight hits, 13 takeaways and 19 giveaways.
McDavid is currently tied for second in the NHL in scoring with 30 points. He is tied with David Pastrnak of the Boston Bruins. The NHL leader in points is Leon Draisaitl of the Oilers with 34 points. Draisaitl had four assists in the four goal Edmonton win.
With the victory, the Oilers extend their lead over the Calgary Flames for first place in the Pacific Division. At 12 wins, five regulation losses and two losses in extra time, the Oilers have 26 points, the third most in the NHL behind the Washington Capitals (29 points) and the St. Louis Blues (27 points).