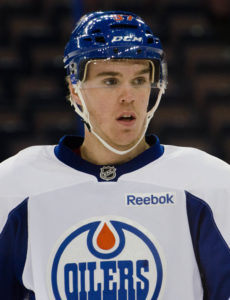 Connor McDavid of Richmond Hill, Ontario was named the first star of the week on Monday. The center, who is a captain for the Edmonton Oilers, was recognized for his outstanding play from October 7-13, 2019.
In that span, McDavid had two goals and five assists for seven points. He had three assists in a 5-2 Oilers win over the New York Islanders on October 8, one goal and one assist for two points in a 4-3 Oilers win over the New Jersey Devils on October 10 and one goal and one assist for two points in a 4-1 Oilers win over the New York Rangers on October 12. McDavid also was a +2 with two penalty minutes, five power play points, one game winning goal, 10 shots on goal, three hits, one blocked shot and nine faceoff wins.
McDavid continued his hot start to the season on Wednesday as he had one goal and four assists for five points in a 6-3 Oilers win over the Philadelphia Flyers. On the season, McDavid has got off to a fantastic start as he has five goals and 12 assists for 17 points in seven games.
McDavid and Leon Draisaitl of the Oilers are in fact 1-2 in the NHL scoring race at the moment. Draisaitl has six goals and nine assists for 15 points.
The Oilers meanwhile lead the Western Conference with a record of six wins and one loss for 12 points. They have one more point than the Colorado Avalanche.
In other Oilers news, former Oilers head coach Ted Green of Eriksdale, Manitoba passed away on October 8 at the age of 79. Green was the Oilers head coach for three seasons from 1991 to 1994. He also played 11 seasons in the National Hockey League with the Boston Bruins from 1960-1972. A defenseman, Green had 48 goals and 206 assists for 254 points in 620 regular season games.