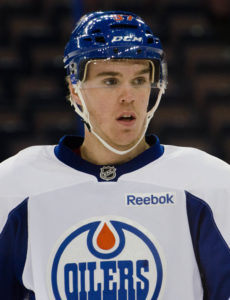 Connor McDavid of Richmond Hill, Ontario was named NHL First Star of the Week from May 3 to 9. The Edmonton Oilers center who is destined to win his third Art Ross Trophy and second Hart Trophy, had three goals and 10 assists for 13 points in four games this past week.
In all four games, the Oilers played the Vancouver Canucks. He had two goals and two assists for four points in a 5-3 Oilers win on May 3, two assists in a 4-1 Oilers win on May 4, three assists in a 6-3 Oilers loss to the Canucks on May 6, and one goal and three assists for four points in a 4-3 Oilers win over the Canucks on May 8.
On Saturday, in the Oilers win over the Canucks, McDavid recorded his 100th point. It only took him 53 games to achieve the century mark.
On Monday, McDavid recorded two more points (the overtime game-winner and an assist) in a 4-3 Oilers win over the Montreal Canadiens. Due to the fact the Canadiens recorded a point, they clinched a playoff spot in the North Division, and join the Oilers, Toronto Maple Leafs, and Winnipeg Jets in the postseason.
McDavid leads the NHL with 69 assists and 102 points. He also is a +25, and has 33 goals, 20 penalty minutes, 36 powerplay points, 11 game-winning goals, 195 shots on goal, 310 faceoff wins, 24 blocked shots, 61 hits, 35 takeaways, and 45 giveaways.