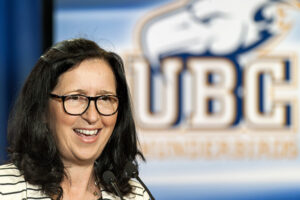 According to the Canadian Olympic Committee on Friday, Canadian Olympic Committee President and Canadian Olympic silver medalist Tricia Smith of Vancouver, British Columbia was honoured with the Honorary Doctorate of Laws Degree from the University of Western Ontario in London, Ontario. She was recognized for her volunteerism in not only the sports world, but society as well.
Smith won a silver medal in the women's coxless pairs rowing competition at the 1984 Olympic Games in Los Angeles. She won alongside Elizabeth Craig of Brockville, Ontario. Smith and Craig had a time in the final of three minutes, 36.06 seconds, and reached the podium by 7.95 seconds over Lynda Cornet and Harriet van Ettekoven of the Netherlands, who had a time of three minutes, 44.01 seconds. Rodica Arba and Elena Horvat of Romania won the gold medal with a time of three minutes, 32.6 seconds. Ellen Becker and Iris Volkner of West Germany won the bronze medal with a time of three minutes, 40.5 seconds.
Smith also won five medals at the World Rowing Championships (one silver medal and four bronze medals), and the gold medal in the coxed fours at the 1986 Commonwealth Games in Edinburgh. Smith has been the Canadian Olympic Committee President since November of 2015.