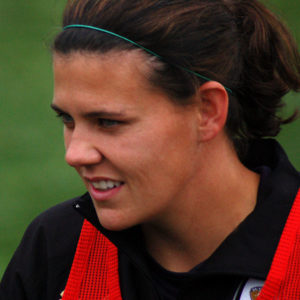 Two-time Canadian Olympic bronze medalist Christine Sinclair of Burnaby, British Columbia has won her second career Bobbie Rosenfeld Award, presented to the best female athlete in Canada each year, according to The Canadian Press on Monday. She previously won the award when she won the bronze medal for Canada in women's soccer at the 2012 Olympic Games in London. She also won the bronze medal for Canada at the 2016 Olympic Games in Rio de Janeiro. 
The reason why Sinclair is being honoured in 2020 is because this past year she became the all-time leader in goals in women's soccer with 186. Her first two goals came in an 11-0 win over Saint Kitts and Nevis in the Olympic Women's Soccer Qualifying Tournament in Edinburg, Texas on January 29, 2020. Sinclair first tied Abby Wambach of the United States for the all-time lead, and then passed her with her second goal in the 23rd minute. In the game, Sinclair put Canada up 1-0 on a penalty, and then 4-0. In the same game, Adriana Leon of Mississauga, Ontario scored four goals.
Sinclair then scored her third goal of the year, and her 186th career goal in a 2-0 win over Mexico on February 4, 2020, from Edinburg, Texas. With the win, Canada finished first in Group B in women's Olympic soccer qualifying. Canada then reached the semifinals of the tournament, where they beat Costa Rica 1-0. With the win over Costa Rica, Canada qualified for the 2020 Olympic Games in Tokyo in 2021.