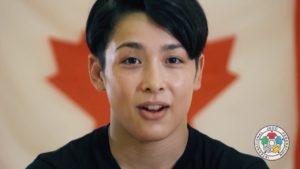 Christa Deguchi of Lethbridge, Alberta won the 2021 Antalya Judo Grand Slam this past Thursday in Turkey. In the women's 57-kilogram weight class, Deguchi beat fellow Canadian Jessica Klimkait of Whitby, Ontario in the final, as Klimkait settled for silver. Team Canada won two other medals at the Antalya Judo Grand Slam. On Friday, Catherine Beauchemin-Pinard of Montreal, Quebec won the bronze medal in the women's 63-kilogram division, and Arthur Margelidon of Montreal won the bronze medal in the men's 73-kilogram division.
In the women's 57-kilogram weight class, Deguchi went undefeated as she beat Vera Zemanova of the Czech Republic and Veronica Toniolo of Italy in Pool C, before beating Julia Kowalczyk of Poland in the semifinal, and Klimkait in the gold medal final. Klimkait's wins were over Mariia Skora of Ukraine, and Loredana Ohai of Romania in Pool A, before beating Tongjuan Lu of China in the semifinals. Kowalczyk and Lu each won the bronze medal.
In the women's 63-kilogram weight class, Beauchemin-Pinard beat Agata Ozdoba-Blach of Poland and Meriem Bjaoui of Turkey, before losing to Lucy Renshall of Great Britain in the semifinal. Beauchemin-Pinard then regrouped to beat Gili Sharir of Israel in one of two repechage matches for bronze. Renshall won the gold medal, Anriquelis Barrios of Venezuela won the silver medal, and Jing Tang of China won the other bronze medal.
In the men's 73-kilogram weight class, Margelidon won Pool A with wins over Ido Levin of Israel, Umalt Demirel of Turkey, and Jeroen Casse of Belgium. Margelidon then lost to Fabio Basile of Italy in the semifinal, before beating Tommy Macias of Sweden in the repechage for bronze. Basile won gold, Bayram Kandemir of Turkey won silver, and Victor Sterpu of Macedonia won the other bronze medal.
The medals for Deguchi, Beauchemin-Pinard, Margelidon, and Klimkait will give them confidence as they prepare for the 2020 Olympic Games in Tokyo in 2021. However, only one of Deguchi or Klimkait will represent Canada at the Olympic Games, as Team Canada can only send one judoka from each weight class.