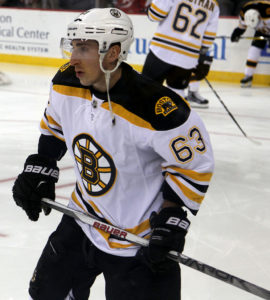 Brad Marchand of Halifax, Nova Scotia recorded his fourth career National Hockey League hat trick on Saturday. The veteran left-winger scored thrice in a 7-5 Bruins win over the Pittsburgh Penguins at Toronto Dominion Garden in Boston, Massachusetts.
Marchand scored his first of the game at 14:56 of the second period from Craig Smith and Matt Grzelcyk. At the time, the Bruins tied the game at three goals apiece. Marchand then scored his second of the game with 20 seconds left in the second period from Smith and Charlie McAvoy, which put the Bruins up 5-3. Then with 1:01 left in the game, Marchand closed out the scoring with a goal from Charlie Coyle. Marchand's goal was into an empty net.
Marchand, who had three goals and one assist for four points, was one of five Bruins to have a multi-point game. David Pastrnak had two goals and one assist for three points, David Krejci had one goal and one assist for two points, while Nick Ritchie of Orangeville, Ontario, and Smith each had two assists. The other Bruins goal scorer was Canadian Olympic gold medalist Patrice Bergeron of Ancienne-Lorette, Quebec. Bergeron won the gold medal for Canada at the 2010 Olympic Winter Games in Vancouver and the 2014 Olympic Winter Games in Sochi. 
Marchand's other three hat tricks came in an 8-0 Bruins win over the Florida Panthers on December 23, 2011, in a 6-3 Bruins win over the Vancouver Canucks on March 13, 2017, and in a 6-5 Bruins win over the Detroit Red Wings on March 6, 2018. On the season, Marchand has 17 goals and 24 assists for 41 points in 32 games. He has 32 penalty minutes, is a +12 with 14 power-play points, three shorthanded points, one game-winning goal, 80 shots on goal, six faceoff wins, nine blocked shots, 39 hits, 18 takeaways, and 22 giveaways.
The Bruins are currently in fourth place in the Eastern Division with 43 points. They have a four-point lead on the New York Rangers and Philadelphia Flyers for a playoff spot.