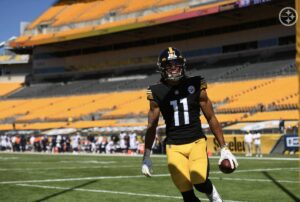 Chase Claypool of Abbotsford, British Columbia recorded his first touchdown of the 2021 National Football League regular season on Sunday for the Steelers in a 27-19 Pittsburgh win over the Denver Broncos. Claypool caught an 18-yard pass from Steelers quarterback Ben Roethlisberger with two minutes and 41 seconds left in the third quarter to put Pittsburgh up 24-6 at the time.
Claypool had five catches for 130 yards in the eight-point Pittsburgh win, as the Steelers improved to two wins and three losses on the season. In five games, Claypool had 20 catches for 341 yards and one touchdown. In 20 career NFL games, Claypool has 82 catches for 1214 yards and 10 touchdowns.
Pittsburgh ended a three-game losing streak with the win over Denver. The Steelers won their first game of the season in an upset, as they defeated the Buffalo Bills 23-16. They then lost to the Las Vegas Raiders 26-17, the Cincinnati Bengals 24-10, and the Green Bay Packers 27-17.
In 2020, the Steelers won the AFC North with a record of 12 wins and four losses. They were then upset 48-37 to the Cleveland Browns in one of three AFC Wildcard games. Despite winning on Sunday. Pittsburgh is in the basement this year in the AFC North. The Baltimore Ravens lead at three wins and one loss, while the Bengals and Browns are at three wins and two losses.