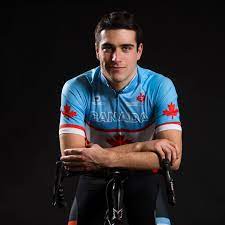 Charles Paquet of Sept-Iles, Quebec won the bronze medal on Sunday in a World Cup men's triathlon event in Brasilia, Brazil. For Paquet, it was his first career World Cup medal.
Paquet had a time of one hour, 48 minutes and 36 seconds. Miguel Hidalgo of Brazil won the gold medal with a time of 1:48.01. Antonio Serrat Seoane of Spain won the silver medal with a time of 1:48.27. Paquet earned a medal by 0.64 seconds. Crisanto Grajales of Mexico finished in fourth place with a time of 1:49.00.
Paquet had a 1500 metre swim time of 18 minutes and 13 seconds, the seventh fastest swim in the event. He then had a transition time from the swim to the cycling portion of the event of 58 seconds. That was the 25th fastest transition time. Paquet's 40 kilometre cycling time was the second fastest at 56 minutes and nine seconds. The only triathlete who cycled fastest was Hidalgo at 56 minutes and six seconds.
Paquet's transition time from the bike to the run was 21 seconds, the 13th fastest in the event. Paquet then had a 10 kilometre run of 32 minutes and 53 seconds, which was the fourth fastest time. The bronze medal for Paquet will give him confidence as he prepares for the 2024 Olympic Games in Paris.