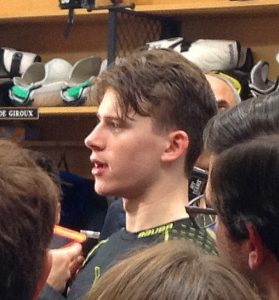 Carter Hart of Edmonton, Alberta made history on Sunday by becoming the youngest goaltender in Philadelphia Flyers franchise history to record a shutout. At 22 years and three days, Hart blanked the Montreal Canadiens 1-0 in game three of the Eastern Conference first round playoff series from the Scotiabank Arena in Toronto, Ontario. With the win, the Flyers lead the Canadiens two games to one in the best out of seven series.
Hart made 23 saves for the shutout. He made five saves in the first period, eight saves in the second period and 10 saves in the third period. Fellow Edmonton native Brendan Gallagher led the Canadiens in shots on goal with three.
Jakub Voracek scored the lone goal for the Flyers in the hockey game at 5:21 of the first period. He scored from Claude Giroux of Hearst, Ontario, and Robert Hagg. The Flyers were able to rebound nicely on Sunday after being hammered on Friday by Montreal in game two of the series. In that contest, Canadian Olympic gold medalist Carey Price of Vancouver, British Columbia, picked up the shutout for Montreal in a 5-0 Montreal victory. Price won the gold medal for Canada at the 2014 Olympic Winter Games in Sochi. 
Hart also has the Flyers franchise record for the youngest goaltender to record a shutout. On October 9, 2019, Hart backstopped Philadelphia to a 4-0 win over the New Jersey Devils at 21 years old and 57 days.