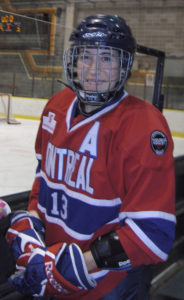 Canadian Olympic gold medalist Caroline Ouellette of Montreal, Quebec and British Columbia Lions owner David Braley of Montreal, Quebec have been named to the Order of Canada in an announcement made on Saturday. Ouellette won four gold medals for Canada in women's hockey at the 2002 Olympic Winter Games in Salt Lake City, at the 2006 Olympic Winter Games in Turin, at the 2010 Olympic Winter Games in Vancouver and at the 2014 Olympic Winter Games in Sochi.
In addition to her four Olympic Winter Games gold medals, Ouellette won six gold medals for Canada at the International Ice Hockey Federation World Hockey Championships. While with Team Canada, Ouellette had 67 goals and 102 assists for 169 points in 157 games. She is fifth all-time in Team Canada scoring among women's hockey players. Ouellette also played for the University of Minnesota-Duluth of the National Collegiate Athletic Association, and Montreal Stars and Montreal Canadiennes of the Canadian Women's Hockey League.
Braley has played a huge role in the survival of the Canadian Football League. In addition to owning the Lions, Braley has also owned the Hamilton Tiger-Cats and Toronto Argonauts. He actually owned the Lions and Argonauts at the same time from 2010 to 2015. Braley is a four-time Grey Cup champion as an owner and was inducted into the Canadian Football Hall of Fame in Hamilton, Ontario in 2012.