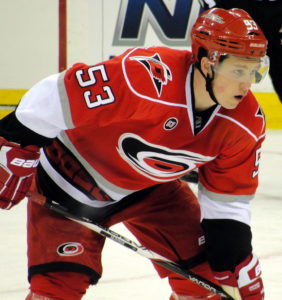 The Carolina Hurricanes traded Jeff Skinner of Markham, Ontario to the Buffalo Sabres on Thursday. In return, the Hurricanes received prospect Cliff Pu of Richmond Hill, Ontario and three draft picks. The draft picks are the Sabres's second round draft pick in the 2019 National Hockey League Entry Draft and the Sabres's third and sixth round draft picks in the 2020 National Hockey League Entry Draft.
Skinner has spent his entire NHL career with the Hurricanes. He has 204 goals and 175 assists for 379 points and 268 penalty minutes. One area to Skinner's game where improvements need to be made is in his defensive zone coverage. During his career he is a -96.
Last season for Carolina, Skinner had 24 goals and 25 assists for 49 points in 82 games. It became evident Skinner became a little expendable in Carolina, as youngsters Sebastian Aho and Teuvo Teravainen had more productive seasons. Aho and Teravainen each reached the 60 point plateau in 2017-18 as Aho had 65 points and Teravainen had 64 points.
Skinner's career best for points in a season is 63 points, which has been accomplished twice–in 2010-11 (his rookie season), and 2016-17. In 2011, Skinner won the Calder Trophy and represented the Hurricanes in the NHL All-Star Game.
Pu meanwhile shared his time last season with the London Knights and Kingston Frontenacs in the Ontario Hockey League. He had 29 goals and 55 assists for 84 points in 65 games.