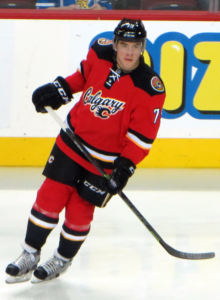 The Vancouver Canucks signed left winger Micheal Ferland of Swan River, Manitoba to a four year contract worth $14 million on Wednesday. The Canucks become Ferland's third National Hockey League team. He previously played four seasons with the Calgary Flames and this past season with the Carolina Hurricanes.
In 71 games with the Hurricanes in 2018-19, Ferland had 17 goals and 23 assists for 40 points. He was a +13 with 58 penalty minutes, 13 power play points, three game winning goals, 156 shots on goal, 23 faceoff wins, 19 blocked shots, 182 hits, 36 takeaways and 48 giveaways. Ferland set career highs assists, plus/minus, game winning goals, power play points, power play assists (seven), shots on goal and faceoff wins.
The fact that Ferland is joining the Canucks is interesting. Vancouver was Calgary's bitter rival during the first round of the 2015 Stanley Cup Playoffs and in six games, Ferland had 21 penalty minutes against the Canucks.
Ferland is one of four unrestricted free agent players the Canucks have signed in the offseason so far. On Canada Day, the Canucks tried to bolster their defense by signing Tyler Myers to a five year contract worth $30 million from the Winnipeg Jets, Jordie Benn of Victoria, British Columbia to a two year contract worth $4 million from the Montreal Canadiens and Oscar Fantenberg to a one year contract worth $850,000 from the Calgary Flames.