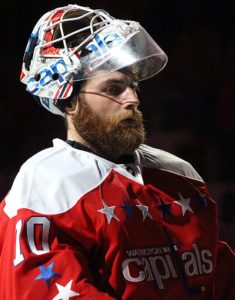 The Vancouver Canucks made a goaltending change on Friday. According to Emily Kaplan of ESPN, the Canucks signed goaltender Braden Holtby from the Washington Capitals to a two-year deal worth $8.6 million.
Holtby, a native of Lloydminster, Saskatchewan, had a record of 25 wins, 14 regulation losses and six losses in extra time in 48 regular season games in 2019-20. He also had a goals against average of 3.11 and a save percentage of .897.
Even though Holtby had an off year statistically, (goals against average over three and a save percentage under .900 for the first time in his National Hockey League career), he remarkably received a first place vote for the Lady Byng Trophy as the NHL's most gentlemanly player. That came even though Holtby did take two minor penalties in 2019-20. Holtby's four penalty minutes were the third most he has had in a season during his NHL career.
A five-time all-star from 2016 to 2020, Holtby won the Vezina Trophy in 2016, and the William M. Jennings Trophy in 2017. In 2016, Holtby led the NHL with 48 wins. Then in 2017, Holtby led the NHL with 42 wins and nine shutouts.
During the 2018 Stanley Cup Playoffs, Holtby was the backup goalie in Washington to Philipp Grubauer. However Grubauer struggled in two games against the Columbus Blue Jackets, and Holtby was the Capitals starting goaltender the rest of the way. Holtby posted a record of 16 wins, seven losses and two shutouts, along with a goals against average of 2.16 and a save percentage of .922 as the Capitals won their first and only Stanley Cup in franchise history.
With Holtby leaving Washington, the Capitals appear to go with a goaltending tandem next season of Ilya Samsonov and Henrik Lundqvist. The Canucks meanwhile saw their goalie from last season, Jacob Markstrom, go to Calgary, where he signed a six year contract worth $36 million with the Flames.