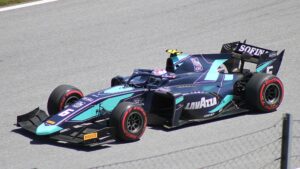 This will be a very special weekend for two Canadian race car drivers. Dalton Kellett of Stouffville, Ontario will be racing in the Global Medical Response Grand Prix at the Indianapolis Motor Speedway in Indianapolis, Indiana on Saturday, and then Nicholas Latifi of Montreal, Quebec will be racing in the Austrian Grand Prix on Sunday. The GMR Grand Prix is part of the IndyCar circuit, while the Austrian Grand Prix is part of Formula One.
In order for Kellett and Latifi to have success, they will have the entire fields to pass. Kellett is starting last, and 25th, while Latifi is starting last, and 20th. Kellett and Latifi can find inspiration in five-time IndyCar race champion Scott Goodyear of Toronto, Ontario. At the 1992 Indianapolis 500, Goodyear started last and 33rd on the grid. However, he had a remarkable day, improved 31 spots, finished second, and was just beaten by eventual champion Al Unser Jr. of Albuquerque, New Mexico.
Goodyear would go on to win the 1992 and 1994 Marlboro 500 at the Michigan International Speedway in Brooklyn, Michigan, and then the 1999 Desert Diamond West Valley Phoenix Grand Prix, before back-to-back wins at the Genesys 600 from Fort Worth, Texas in 1999 and 2000. The wins in Michigan were part of the Championship Auto Racing Teams series (better known as CART). The wins in Phoenix and Fort Worth were part of the Indy Racing League.
Kellet and Latifi will not be the only Canadian racecar drivers competing this weekend. James Hinchcliffe of Oakville, Ontario will be starting 19th at the GMR Grand Prix, and Lance Stroll of Montreal, Quebec will be starting ninth in Austria.
The GMR Grand Prix will be the second IndyCar race in 2020, and the Austrian Grand Prix will be the first Formula One race this year. In the opening IndyCar race on June 6, Scott Dixon of New Zealand was victorious at the Genesys 300 in Fort Worth, Texas, with Hinchcliffe in 18th place.