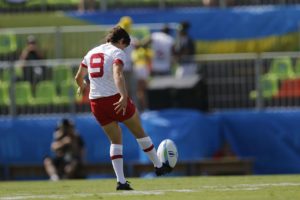 Heading into the 2020 Olympic Games in Tokyo, Canada's best chance for an Olympic medal in a team competition with a playoff format, may come in the rugby women's sevens. There is no doubt that this is a deep Canadian team, led by captain Ghislaine Landry of Toronto, Ontario, the best Canadian women's rugby sevens player of all-time.
Just how strong has Landry been over the years? Well, she is the all-time leader in points among all players who have ever played in the Women's World Rugby Sevens World Series. With 1356 points, she has 340 more points than Tyla Nathan-Wong of New Zealand, who is in second place with 1016 points.
Landry could be compared to Canada's women's rugby sevens version of Christine Sinclair of Burnaby, British Columbia, women's soccer's all-time leading scorer. Just like the Canadian women's soccer team, there is a strong supporting cast around Landry, which includes Bianca Farella of Montreal, Quebec (Canada's all-time leader in tries with 153), Charity Williams of Toronto, Ontario, and Brittany Benn of Napanee, Ontario.
At the 2016 Olympic Games in Rio de Janeiro, Canada came away with a bronze medal, as they placed behind the gold medalists from Australia and the silver medalists from New Zealand. In the last four years, Canada has won women's rugby sevens World Series events in Sydney, Australia (February, 2017), and Kitakyushu, Japan (April, 2019). In addition to the two gold medals, Canada has won six silver medals and seven bronze medals. While New Zealand is the heavy favourite to win Olympic gold, Canada will compete against Australia, the United States and France for two Olympic medals.
Canada plays Brazil on July 28 (6:30pm), Fiji on July 29 (1:30am), and France on July 29 (6:30pm). The four quarterfinals take place on July 30 at 2:30am, 3am, 3:30am, and 4am. The semifinals will be on July 31 at 8pm and 8:30 pm on July 31, with the bronze medal game 2:30 am on August 1, and the gold medal game at 3 am on August 1.