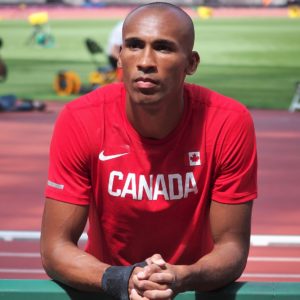 Last week we took the time to preview eight team competitions. Now it is time to focus on eight different sports and their individual/team events from a Canadian perspective. Let us start with athletics.
In the track competitions, Canada will be led by Andre De Grasse of Scarborough, Ontario, in the men's 100 metres, men's 200 metres, and men's 4×100 metres. At the 2016 Olympic Games in Rio de Janeiro, De Grasse won silver in the men's 200 metres, and bronze in the men's 100 metres and men's 4×100 metres. Even though he did not win Olympic gold, (as he had to battle the great Usain Bolt of Jamaica in the field), he was still named the 2016 Lionel Conacher Award winner as the Canadian Press Male Athlete of the Year. Heading into Tokyo, De Grasse seems to be in better form in the men's 200 metres (August 4, 6:55 a.m. MT) than the 100 metres (August 1, 6:50 a.m. MT), while De Grasse and Aaron Brown of Toronto, Ontario will be leading a strong men's 4×100 metre relay squad (August 6, 7:50 a.m. MT). They will be facing a deep American contingent in the sprint events.
In the men's 800 metres (August 4, 6:05 a.m. MT), Marco Arop of Edmonton, Alberta is coming off a strong Diamond League season, while Mohammed Ahmed of St. Catharines, Ontario is a definite medal threat in the men's 5000 metres (August 6, 6 a.m. MT), an event he won bronze in at the 2019 World Athletics Championships in Doha, Qatar. Meanwhile, Evan Dunfee of Richmond, British Columbia will be walking 70 kilometres in a span of two days (14 hours). In a ridiculous schedule, the 20-kilometre walk (August 5 at 1:30 am MT) is the day before the 50-kilometre walk (August 5 at 2:30 pm MT), where Dunfee is a medal contender in, after also winning bronze at the Doha worlds.
Canada's best chance for a gold medal in athletics may be from Damian Warner in the decathlon (August 4 and 5 starting at 6pm). Warner, who won bronze in the decathlon at Rio, set a Canadian record with 8995 points in winning the Hypo-Meeting in Austria in May.