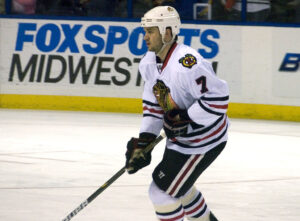 Canadian Olympic gold medalist Brent Seabrook of Richmond, British Columbia retired as a National Hockey League defenseman on Friday at the age of 35 according to Emily Kaplan of ESPN. Seabrook, who won the gold medal for Canada in men's hockey at the 2010 Olympic Winter Games in Vancouver, has been dealing with a back injury in recent years and has not played during the 2020-21 season.
In addition to winning an Olympic gold medal, Seabrook played 15 seasons with the Chicago Blackhawks from 2005 to 2020. He won three Stanley Cups with the Blackhawks in 2010, 2013, and 2015, and represented the Blackhawks at the 2015 NHL All-Star Game. In 1114 NHL regular season games, he had 103 goals, 361 assists, 464 points, was a +111, 661 penalty minutes, 159 power play points, 12 shorthanded points, 19 game-winning goals, and 1996 shots on goal.
One could argue it was in the Stanley Cup Playoffs where Seabrook played his best hockey. He had 20 goals and 39 assists for 59 points in 123 games. He was also a +8 with 83 penalty minutes, six power play points, three game winning goals, 231 shots on goal, 256 blocked shots, 403 hits, 22 takeaways and 120 giveaways.
All three of Seabrook's postseason game winning goals were overtime winners. He scored the overtime winner in game seven of the 2013 Western Conference Semifinal (a 2-1 Blackhawks win over the Detroit Red Wings) on May 29, 2013, in game four of the 2013 Stanley Cup Final (a 6-5 Blackhawks win over the Boston Bruins) on June 19, 2013, and in game four of the 2015 Western Conference Quarterfinal (a 3-2 Blackhawks win over the Nashville Predators). Seabrook's game winner against the Predators was in triple overtime.