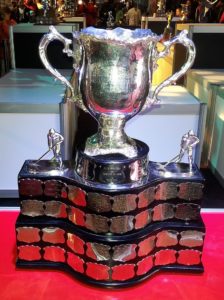 There will be no Memorial Cup in 2020. On Monday, the Canadian Hockey League announced that the most prestigious national junior ice hockey championship in Canada will not take place as scheduled because of the Coronavirus according to Patrick Johnston of The Province. 
The Memorial Cup was scheduled to occur from May 21 to May 31 from Prospera Place in Kelowna, British Columbia. The annual event features the champions from the Western Hockey League, the Ontario Hockey League and the Quebec Major Junior Hockey League, as well as the host team, which this year was supposed to be the Kelowna Rockets.
The CHL also announced the league playoffs for the OHL and WHL would be cancelled. The QMJHL already cancelled the rest of their season this past Wednesday. The Sherbrooke Phoenix were the best team in the QMJHL and the Ottawa 67's were the best team in the OHL.
This is the first time ever that the Memorial Cup has been cancelled. The tournament first took place in 1919 with the University of Toronto Schools as the champion. There was even a Memorial Cup champion every year during World War II.
The 2021 Memorial Cup will take place in either Oshawa, Ontario or Sault Ste. Marie, Ontario. The Memorial Cup is not scheduled to be in western Canada again until 2023. Expect Kelowna to be favoured to be the host three years from now.
There are currently 1646 cases of Coronavirus in Canada and 24 deaths. The National Hockey League has not determined what they plan to do in concluding the 2019-20 regular season and the 2020 Stanley Cup Playoffs as of yet.