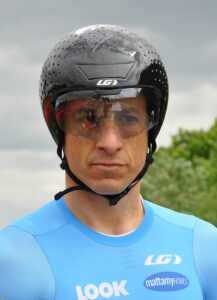 Team Canada came away with two silver medals on day two of the 2020 Paralympic Games in Tokyo in 2021. Tristen Chernove of Powell River, British Columbia won a silver medal in the men's  C1 individual pursuit track cycling competition, and Nicolas-Guy Turbide of Quebec City, Quebec won a silver medal in the men's S13 100 metre backstroke.
Chernove, who suffers from Charcot-Marie-Tooth disease, which is a progressive loss of muscle tissue, reached the men's C1 individual pursuit final, but was overlapped by gold medalist Mikhail Astashov of the Russian Paralympic Committee in the gold medal race. Zhangyu Li of China won the bronze medal. Chernove's time in qualifying was 3:40.591.
Turbide, who suffers from albinism (loss of colouration in the eyes), had a time of 59.7 seconds. Ihar Boki of Belarus had a world record gold medal-winning time of 56.36 seconds. Vladimir Sotnikov of the Russian Paralympic Committee won the bronze medal with a time of 59.86 seconds. Turbide reached a medal by 0.78 seconds over Oleksii Virchenko of the Ukraine, who had a fourth-place time of 1:00.48.
In women's goalball, Canada defeated Israel 6-2 to improve their record to one win and one loss. Emma Reinke of St. Thomas, Ontario scored four goals, and Maryam Salehizadeh of Vancouver, British Columbia scored twice. Canada lost 5-1 to the Russian Paralympic Committee in their first game.
Team Canada now has four medals (two silver medals and two bronze medals). They are tied for ninth place in the medal standings alongside the United States, Japan, Spain and France. China leads with 23 medals.