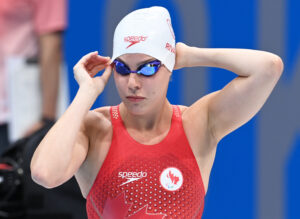 Team Canada came away with two bronze medals on the first day of the 2020 Paralympic Games in Tokyo in 2021 on Wednesday. Keely Shaw of Midale, Saskatchewan won a bronze medal in the women's C4 individual pursuit track cycling, and Aurelie Rivard of Saint-Jean-sur-Richelieu, Quebec won a bronze medal in the women's 50 metre S10 freestyle swimming competition.
Shaw, who has paralysis after falling from a horse as a teenager, had the third best time in qualifying at three minutes, 49.032 seconds. She then raced for bronze against Meg Lemon of Australia. Shaw had a time of 3:48.342, while Lemon had a time of 3:49.972. Emily Petricola of Australia won the gold medal, as she beat Shawn Morelli of the United States. The times were not announced as Petricola overlapped Morelli in the final. It was an outstanding Paralympics for Petricola. In qualifying, Petricola set a world record in the women's C4 individual pursuit track cycling, with a time of 3:38.061. Petricola had the old world record of 3:44.146, which was set on February 1, 2021 in Milton, Ontario.
Rivard, who does not have one hand, won the bronze medal in the S10 classification in women's 50 metre freestyle swimming with a time of 28.11 seconds. She reached the podium by 0.15 seconds over Alessia Scortechini of Italy, who had a fourth place time of 28.26 seconds. Anastasiia Gontar of the Russian Paralympic Committee won the gold medal with a time of 27.38 seconds. Chantelle Zijderveld of the Netherlands won the silver medal with a time of 27.42 seconds.
While it was the first career Paralympic medal for Shaw, it was the sixth for Rivard. She previously won the silver medal in the women's S10 400 metre freestyle at the 2012 Paralympic Games in London, and four more Paralympic medals at the 2016 Paralympic Games in Rio de Janeiro (gold in women's 50 metre, 100 metre, and 400 metre freestyle and silver in the women's 200 metre individual medley).
Meanwhile in women's wheelchair basketball, Canada defeated Great Britain 73-54 in their opening game. Kady Dandenau of North Pender Island, British Columbia had a game-high 32 points.