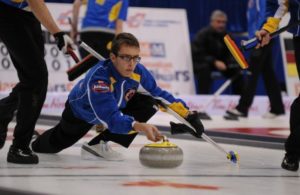 Team Canada has won their first two games at the 2021 World Men's Curling Championship in Calgary. On Friday, Canada beat Scotland 9-6, and then Japan 8-5. The Canadian team is comprised of skip Brendan Bottcher of Edmonton, Alberta, third Darren Moulding of Lacombe, Alberta, second Bradley Thiessen of Edmonton, Alberta, and lead Karrick Martin of Edmonton, Alberta. Karrick Martin happens to be the son of Canadian Olympic gold medalist Kevin Martin of Killam, Alberta, who skipped Canada to gold at the 2010 Olympic Winter Games in Vancouver.
In Canada's win over Scotland, Bottcher did a wonderful job in staying patient after a slow start. In the contest, Scotland got off to a strong start with a 5-2 lead, but were then outscored 7-1 in the last half of the game. Canada pulled within one after a sixth end deuce, stole two points in the seventh end to take a 6-5 lead, and then took control in the ninth to take an 8-6 lead after Scotland tied the game at six after eight ends.
In Canada's win over Japan, the key end was the sixth end. Here, with the game tied at two, Team Canada scored four points to take a commanding 6-2 lead.
The 2021 World Men's Curling Championship is important in Canada's quest to qualify for the 2022 Olympic Winter Games in Beijing. Canada must finish in the top six to avoid a second-chance qualifier.