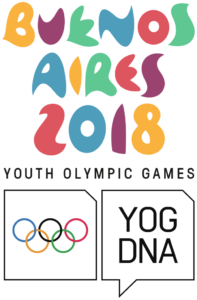 Team Canada won its first three medals on Monday at the 2018 Youth Olympic Games in Buenos Aires, Argentina. Emma Misak of Surrey, British Columbia won a silver medal in girls' break dancing, Keegan Young of Markham, Ontario won the bronze medal in the boys 81 kilogram judo and Finlay Knox of Okotoks, Alberta won the bronze medal in the boys 200 metre individual medley swimming competition.
In girls break dancing, Miske went through the preliminaries with a record of two wins and one loss. She beat Eniko Torok of Hungary 2-0 and Vicky Bergmans of the Netherlands 2-0, and lost 2-0 to Ramu Kawai of Japan. In the quarterfinals, Miske upset Carlota Dudek 3-1 of France before beating Kristina Yashina of Russia 12-8 in the semifinals on collected votes after each dancer won one round. In the final, Miske lost to Ramu Kawai 4-0 in the gold medal match. Yeri Kim of South Korea won the bronze medal.
In the boys 81 kilogram judo, Young lost to Ahmed Rebahi of Algeria in the quarterfinals, before winning three straight repechage matches to claim the bronze medal. He beat Anwar Zrhari of Morocco, Carlos Paez of Venezuela and Alex Barto of Slovakia. Adrian Sulca of Romania won the gold medal and Martin Bezdek of the Czech Republic won the silver medal. Mark van Dijk of the Netherlands won the other bronze medal.
In the boys 200 metre individual medley swimming, Knox won the bronze medal with a time of 2:01.91. He earned a medal by half a second as Gal Cohen Groumi of Israel was in fourth place with a time of 2:02.41. Tomoe Hvas of Norway won the gold medal with a time of 1:59.58 and Thomas Ceccon of Italy won the silver medal with a time of 2:01.29.
In boys field hockey, Canada came away with their first win as they beat Kenya 4-3. Captain Rowan Childs of Tsawwassen, British Columbia scored the game winning goal for Canada in the 15th minute to give Canada a 4-0 lead at the time. Kenya made things mighty interesting as they scored three goals in three minutes, but were unable to catch the Canadians. Canada has a record of one win and two losses and are in fourth place in Pool B. They have lost 3-2 to Austria and 6-3 to Australia.
Team Canada is now in 12th place in the medal standings with three medals. Russia leads with 14 medals.