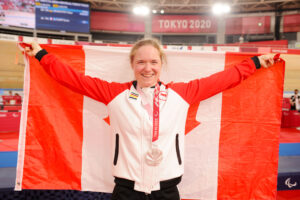 Team Canada came away with two medals in cycling and judo on day three of the 2020 Paralympic Games in Tokyo on Friday. Kate O'Brien of Calgary, Alberta won silver in the women's C4-5 track cycling 500 metre time trial, and Priscilla Gagne of Granby, Quebec, who carried the flag for Canada in the Opening Ceremonies of the 2020 Paralympic Games in 2021, won silver in the women's 52-kilogram judo division.
O'Brien, who suffers from epilepsy from a cycling accident in 2017, had a factored time of 35.439 seconds. Kadeena Cox of Great Britain won the gold medal with a factored time of 34.433 seconds, and Caroline Groot of the Netherlands won the bronze medal with a time of 35.599 seconds. O'Brien earned a medal by 1.244 seconds over Marie Patouillet of France, who had a fourth-place factored time of 36.683 seconds. In cycling, factored times are used to measure the degree of disability.
Gagne, who suffers from the visual impairment of retinitis pigmentosa, lost the gold medal contest to Cherine Abdellaoui of Algeria via an ippon. On the way to the final, Gagne beat Alesia Stepaniuk of the Russian Paralympic Committee via a waza-ari in the quarterfinals, and then beat Ramona Brussig of Germany in the semifinals. Nataliya Nikolaychyk of Ukraine, and Stepaniuk each won the bronze medal.
Meanwhile, Canada improved to a record of two wins and zero losses in women's wheelchair basketball. Kady Dandeneau of North Pender Island, British Columbia, led Canada with 19 points.
Team Canada now has six medals at the 2020 Paralympic Games in Tokyo in 2021, as they have four silver medals and two bronze medals. Canada sits in 15th place in the overall medal standings.