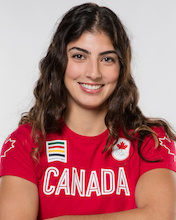 Team Canada won a silver medal on Friday at a Women's Rugby Sevens World Series event in Dubai, United Arab Emirates on Friday.  It is the second medal for Team Canada this season as they also won the bronze medal in Glendale, Colorado in October.
In Dubai on Thursday, Team Canada went through Pool C action undefeated. They defeated Fiji 38-7. Spain 29-7 and France 21-14. In Canada's win over Fiji, Julia Greenshields of Sarnia, Ontario had three tries, while Bianca Farella of Montreal, Quebec, Kaili Lukan of Barrie, Ontario and Brittany Benn of Napanee, Ontario each had one try. In Canada's win over Spain, Canada got three tries from Farella and one try each from Olivia Apps of Lindsay, Ontario and Kayla Moleschi of Williams Lake, British Columbia. In Canada's win over France, Canada got tries from Benn, Lukan and Charity Williams of Toronto, Ontario.
Team Canada then reached the quarterfinals on Friday where they beat Ireland 24-7. Farella had two tries, while Pamphinette Buisa of Gatineau, Quebec and Lukan each had one. In the semifinals, Canada beat Australia 15-10 on tries from Benn, Farella and Ghislaine Landry of Toronto, Ontario.
Team Canada then lost to New Zealand 26-14 in the gold medal game. Australia beat the United States 26-21 in the bronze medal game. The silver medal for Canada will give them confidence as they prepare for the 2020 Olympic Games in Tokyo.