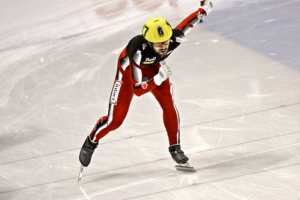 Team Canada won the gold medal in a men's 5000m short track speed skating World Cup event in Budapest, Hungary on Sunday. The Canadian team comprised of three-time Olympic gold medalist Charles Hamelin of Levis, Quebec, Canadian Olympic bronze medalist Charle Cournoyer of Boucherville, Quebec, Samuel Girard of Ferland-et-Boilleau, Quebec and Pascal Dion of Montreal, Quebec.
The Canadian squad had an overall time of 6:46.191. China won the silver medal with a time of 6:46.196. Japan won the bronze medal with a time of 6:47.825. By winning the gold medal by five one thousandths of a second, just shows how close the Canadian victory actually was.
Team Canada won a medal by 2.1 seconds. South Korea was in fourth place with a time of 6:49.201.
The Canadian short track speed skating team also won three silver medals in women's World Cup events this past weekend. Kim Boutin of Sherbrooke, Quebec won the silver medal in the women's 1000m and women's 1500m. In the women's 1000m, Boutin placed behind Min Jeong Choi of South Korea and in the women's 1500m, Boutin placed behind Choi as well. In the women's 3000m short track speed skating relay, Valerie Maltais of La Baie, Quebec, Marianne St-Gelais of Roberval, Quebec, Kasandra Bradette of Saint-Felicien, Quebec and Jamie MacDonald of Fort St. John, British Columbia won the silver medal with a time of 4:09.817.
Even though the Canadian team came away with four World Cup medals this past weekend in Hungary, they will have a tough time in South Korea in February as the South Koreans will have home ice advantage in Pyeongchang when they host the 2018 Olympic Winter Games. The fact that Boutin won two World Cup medals is very significant when you consider the fact she was behind St-Gelais last season in individual events on the Canadian women's short track speed skating team.