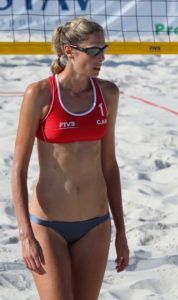 Team Canada has won the gold medal in women's beach volleyball at the 2019 World Championships in Hamburg, Germany. Melissa Humana-Paredes of Toronto, Ontario and Sarah Pavan of Kitchener, Ontario became the first Canadians ever to win a medal at the World Beach Volleyball Championships.
Humana-Paredes and Pavan defeated Alix Klineman and April Ross of the United States 23-21, 23-21 in the gold medal game. It was a strong game for Humana-Paredes, who delivered with 22 points. Pavan meanwhile had 14 points. Humana-Paredes had two aces, while Pavan notched three points on blocks.
Australia's Mariafe Artacho and Taliqua Clancy won the bronze medal. They defeated Tanja Huberli and Nina Betschart of Switzerland 21-18, 22-20 to finish in third place.
On the men's side, Oleg Stoyanovskiy and Viacheslav Krasilnikov of Russia won the gold medal. They defeated Julius Thole and Clemens Wickler of Germany 19-21, 21-17, 15-11 in the championship final. In the bronze medal game, Anders Mol and Christian Sorum of Norway finished in third place by beating Tri Bourne and Trevor Crabb 19-21, 21-15, 15-10.
With the victory, Pavan and Humana-Paredes have clinched a spot at the 2020 Olympic Games in Tokyo. Canada becomes only the second nation to qualify for next year's Olympic Games. They are followed by Japan, who automatically qualifies because they are the host country.