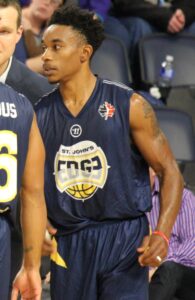 Team Canada has won its first game of the 2021 Men's 3×3 Olympic Qualifying Tournament in Graz, Austria. From the Hauptplatz (the main square) in Graz, Canada defeated Croatia 18-14.
The Canadian team was led by Steve Sir of Edmonton, Alberta, and Alex Johnson of Toronto, Ontario, who had six points each. Jordan Jensen-Whyte of Calgary, Alberta scored five points, while Kyle Landry of Calgary scored a single point.
Team Canada got off to a great start and was completely in control throughout the contest. The Croatians played Canada tight at times but the Canadian team displayed a complete effort in the four-point win.
Remember in 3×3 basketball, teams only get one point for a successfully made field goal, where it is two points in traditional 5×5 basketball. Likewise, a three-point shot in 5×5 basketball is only two points in the 3×3 game.
Team Canada was supposed to play two games on Wednesday. However, their game against the Netherlands was postponed due to rain, and will be made up on Thursday. Following Canada's game against the Netherlands, Canada will play Latvia and the host Austrians on Saturday. This is a 20-team tournament with the top three teams qualifying for the 2020 Olympic Games in Tokyo in 2021.