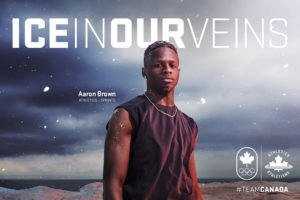 Team Canada won an Olympic bronze medal in the men's 4×100 metre medley relay at the 2020 Olympic Games in Tokyo in 2021. The Canadian team was comprised of Aaron Brown of Toronto, Ontario, Andre De Grasse of Scarborough, Ontario, Brendon Rodney of Etobicoke, Ontario, and Jerome Blake of Burnaby, British Columbia. Brown, Rodney and De Grasse were part of the Canadian men's 4×100 metre medley relay that won bronze at the 2016 Olympic Games in Rio de Janeiro.
The Canadians had a third place time of 37.70 seconds. The surprising Italians won the gold medal with a time of 37.50 seconds. The Italians were led by 100-metre Olympic gold medalist Marcell Jacobs. Meanwhile, Great Britain won the silver medal with a time of 37.51 seconds.
Team Canada reached the podium by .09 seconds over China, which had a fourth place time of 37.79 seconds. In the semifinals, China was slightly faster than Canada, as both nations ran a time of 37.92 seconds.
What was not surprising from the men's 4×100 metre relay race was the fact once again the United States did not reach the final, as they posted a slow time of 38.10 seconds in the semifinals. In Tokyo, the Americans did not have a clear baton exchange, which prevented their chances for an Olympic medal. The United States have a history of disqualifications in the men's 4×100 metre race, despite unprecedented depth. They were also disqualified in the final at the 2016 Olympic Games in Rio de Janeiro, and the 2012 Olympic Games in London, as well as the semifinal of the 2008 Olympic Games in Beijing. At the 2004 Olympic Games in Athens,  the United States had to settle for silver after another botched exchange, and lost the gold medal to Great Britain by one one-hundredth of a second.
The fact that the United States has seriously underachieved in the men's 4×100 metre relay at the Olympic Games is another example of American individualism. Meanwhile, the Canadian collective success has produced four medals over the years. In addition to Olympic bronze in Tokyo and Rio de Janeiro, Canada won gold at the 1996 Olympic Games in Atlanta, and bronze at the 1984 Olympic Games in Los Angeles. In the Olympic final of Atlanta, the United States did not have any clear baton issues, as they were just outright slower than the Canadians.