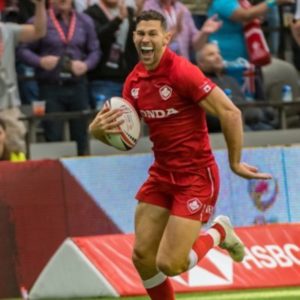 Team Canada came away with a bronze medal on Sunday in a men's World Rugby Sevens Series event in Vancouver, British Columbia. This was Canada's first medal in men's rugby sevens at the World Series level since 2017 when Canada won the gold medal in Singapore.
In the two-day tournament at BC Place Stadium, Canada had a record of five wins and one loss. In Pool B action, Canada had a perfect record on Saturday of three wins and zero losses.
Canada's first win came in a 31-21 victory over France. Canadians who recorded tries were Nathan Hirayama of Richmond, British Columbia, Lucas Hammond of Toronto, Ontario, Harry Jones and Phil Berna of Vancouver, British Columbia, and Connor Braid of Victoria, British Columbia.
Canada then went to 2-0 with a shocking 26-21 win over Fiji. In the Canadian win, Canada had two tries from Theo Sauder of Toronto, Ontario, and one try each from Pat Kay of Duncan, British Columbia and Justin Douglas of Abbotsford, British Columbia. Fiji are the defending gold medalists in men's rugby sevens from the 2016 Olympic Games in Rio de Janeiro.  
Team Canada improved to 3-0 with a convincing 29-7 win over Wales. Sauder, Hirayama, Jones, Kay and Isaac Kaay of Kamloops, British Columbia had tries for Canada.
In the quarterfinals on Sunday, Canada blanked Spain 21-0. Hammond, Douglas and Sauder had tries for Canada. In the semifinals, Canada lost 19-14 to Australia. Then in the bronze medal game, Canada beat South Africa 26-19 on two tries each from Douglas and one try each from Jones and Hirayama.
New Zealand meanwhile won the gold medal over Australia 17-14, Canada, which now sits in eighth place in the World Cup standings with 57 points, will have huge confidence as they prepare for the 2020 Olympic Games in Tokyo.