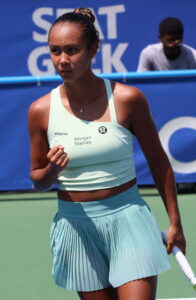 For the first time ever, Canada has won the Billie Jean King Cup, which is considered the world's most notable women's team tennis tournament. On Sunday, Canada beat Italy two matches to none thanks to singles victories by Leylah Annie Fernandez of Montreal, Quebec and Marina Stakusic of Mississauga, Ontario. Fernandez beat Jasmine Paolini 6-2, 6-3, and Stakusic beat Martina Trevisan 7-5, 6-3.
The major statistic on the Stakusic/Trevisan stat line was double faults. Stakusic only had one, while Trevisan, the 2022 French Open semifinalist had five. Stakusic also did much better with her second serve. She won 12 of 22 second serve points, while Trevisan only won six of 25 points for a poor percentage of 24%.
Fernandez meanwhile previously beat Paolini 6-4, 6-2 in the first round of Abu Dhabi in 2021. On Sunday, Fernandez did a better job than Paolini with the return of serve. Fernandez had six breaks of serve compared to two for Paolini, and won 37 of 67 total return points for an impressive percentage of 55%.
Team Canada is now the titleholders of the Billie Jean King Cup and the Davis Cup. Team Canada defends its title of the Davis Cup next week in Malaga, Spain. Canada will open the tournament on November 21 against Finland in the quarterfinals.