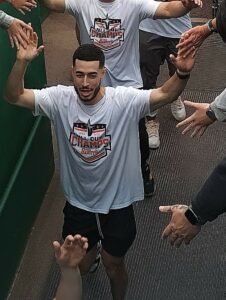 Team Canada clobbered England 11-4 on Monday at the 2023 World Lacrosse Championships in San Diego, California. with the win, Canada finished Pool A play with a record of three wins and one loss. Canada was only two points back of Pool A winner, the United States. The win by seven goals on Monday came after Canada narrowly beat Haudenosaunee 8-7 on Sunday.
Attack Josh Byrne of New Westminster, British Columbia led Canada against England with five points as he had three goals and two assists. Three more Canadians had a multi-goal game as attack Ryan Lee of Sharon, Ontario, midfield Dyson Williams of Oshawa, Ontario, and Connor Fields each scored twice. Other Canadians to score against England were midfield Dhane Smith of Kitchener, Ontario, and attack Jeff Teat of Brampton, Ontario. In Canada's win against Haudenosaunee on Sunday, attack Curtis Dickson of Port Coquitlam, British Columbia led Canada with five points as he had two goals and three assists.
The only team above Canada in the Pool A standings were the United States, which had a perfect record of four wins and zero losses. Canada and the United States get a bye to the quarterfinals on Wednesday and do not have to play in the first round.