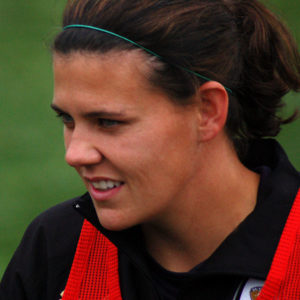 Team Canada began its quest for a third straight Olympic medal in women's soccer on Wednesday with a 1-1 tie against Japan. Two-time Canadian Olympic bronze medalist Christine Sinclair of Burnaby, British Columbia scored Canada's lone goal. It came in the sixth minute. Sinclair had an initial shot that hit the post, and then scored immediately after on the rebound. It was Sinclair's 187th goal in international soccer, which is the most ever by a female soccer player. At 38 years of age, she continues to play soccer at a high level.
It appeared Sinclair's goal was going to hold up. However, it did not. That is because Mana Iwabuchi tied the game in the 84th minute. Another turning point came early in the second half. That is when Canadian goalkeeper Stephanie Labbe of Edmonton, Alberta made a remarkable save off a penalty kick. Canadian backup goaltender Kailen Sheridan came in for Labbe, due to an injury, and gave up the long shot to Iwabuchi. It is clear that Canada will need Labbe to reach the podium.
To have the opportunity to compete on the first day of competition and before the Opening Ceremonies was very special for Desiree Scott, the Canadian defensive midfielder from Winnipeg.
"To start the Olympic Games against the hosts from Japan, is an incredible moment, that we will cherish and remember…Our pool is not easy," Scott stated prior to Canada's game against Japan at the pre-Olympic training camp in California. Canada will next play Chile at 1:30 A.M. on July 24.