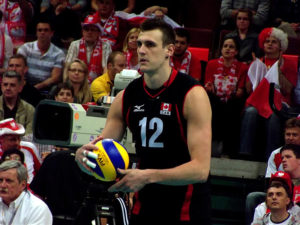 Team Canada surprised Brazil in straight sets on Friday in the 2018 FIVB Men's Volleyball Nations League in Varna, Bulgaria. Canada beat Brazil 25-22, 34-32 and 25-23 to improve to a record of six wins and four losses.
It was an outstanding game for Gavin Schmitt of Grande Prairie, Alberta. Schmitt led Team Canada with 16 spikes. Graham Vigrass of Calgary, Alberta led Team Canada with two blocks and Nicholas Hoag of Gatineau, Quebec led Team Canada with two aces.
The win over Brazil is very significant when you consider Brazil's great history in international volleyball. They are a three-time Olympic gold medalist (1992, 2004 and 2016) and won three straight World Men's Volleyball Championships in 2002, 2006 and 2010.
However even though Canada defeated the world men's volleyball superpower in Brazil, they could not continue with results in the win column in their final two games. They lost 25-22, 25-19, 29-27 to Bulgaria on Saturday and 25-19, 22-25, 25-22, 24-26, 16-14 in five sets to France on Sunday.
Canada now has a record of six wins and six losses in the standings, which is good enough for eighth place overall. The top six teams qualify for the final round in France.
Schmitt meanwhile returned to Team Canada off the bench in their three set win over Australia in Ottawa, Ontario on June 8. He then started in Canada's loss to Germany and started the second set in their loss to the United States in their other two games in Ottawa. The games in Ottawa was a return for Schmitt on Team Canada. He had not played for Canada since the 2016 Olympic Games in Rio de Janeiro due to ankle surgery.