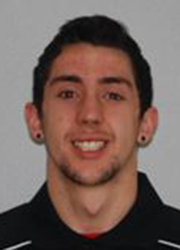 Team Canada came away with three victories in three games at the 2019 Volleyball Nations League in Chicago, Illinois this past weekend. Canada defeated China 25-19, 25-23, 22-25, 25-17, the United States 25-22, 22-25, 25-23, 25-17 and Japan 25-18, 26-24, 23-25, 21-25, 15-13. With the three victories, Team Canada improves to a record of seven wins and five loses and into eighth place in the 16 team competition.
In order for Canada to reach the final round in Chicago from July 10-12, they will need to be in the top five. Currently, Brazil leads with a record of 11 wins and one loss. They are followed by Iran (10-2), France and Russia (9-3), Italy and Poland (8-4) and the United States (7-5). The United States is ahead of Canada because they have 22 points compared to Canada's 20 points. In the Nations League, you get three points for a three or four set win, two points for a five set win and one point for a five set loss.
Team Canada bounced back in Volleyball Nations League action following three losses in Iran the weekend of June 14-16. On June 14, Canada lost 25-15, 26-24, 25-16 to Iran. Then on June 15, Canada lost 25-23, 22-25, 25-20, 25-23 to Russia and on June 16, Canada lost 25-20, 25-27, 25-20, 28-26 to Poland.
In Canada's win on Friday over China, Ryan Sclater of New Westminster, British Columbia, led Canada with 18 spikes and 21 points. John Gordon Perrin of Creston, British Columbia led Canada with four blocks. In Canada's win over the United States, Stephen Maar of Auroa, Ontario led Canada with 17 points and 15 spikes. Perrin and Graham Vigrass of Calgary, Alberta each had four blocks. In Canada's win over Japan, Maar led Canada with 21 points, Nicholas Hoag led Canada with 18 points, Vigrass and Maar had four blocks each and Vigrass led Canada with four aces.