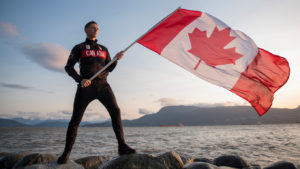 Canada has qualified for the 2020 Olympic Games in Tokyo in men's field hockey. On Sunday, from Rutledge Field in Vancouver, British Columbia, Canada beat Ireland in a two game total point series that required a shootout to declare the winner.
On Saturday it was the first of the two games in the total point series and Ireland came away victorious by a score of 5-3. Canada then bounced back with a 3-1 win in game two. Due to the fact, Canada and Ireland were tied 6-6 after the two games, a shootout was required to determine the winner. Here, Canada won 5-4 as both sides had seven shots on the opposing net.
Team Canada was very fortunate just to get to the shootout. On the final play of the second game, Scott Tupper of Vancouver, British Columbia was awarded a penalty stroke, and delivered a key tournament tying goal. Then in the shootout and each team scoring four times, John McKee missed for Ireland, and Adam Froese of Vancouver, British Columbia scored the winner.
Keegan Pereira of Victoria, British Columbia and Gord Johnston of Vancouver, British Columbia each scored two of Canada's regulation goals in the two games. The other Canadian regulation scorer was Oliver Scholfield of Vancouver, British Columbia.
Canada was one of three nations to qualify from two game total point series this past weekend. In other action, Spain beat France 6-5 and the Netherlands beat Pakistan 10-5. This weekend India plays Russia, New Zealand plays South Korea, Germany plays Austria and Great Britain plays Malaysia for the four final spots. The other five nations that have already qualified are Japan, Argentina, South Africa, Belgium and Australia.