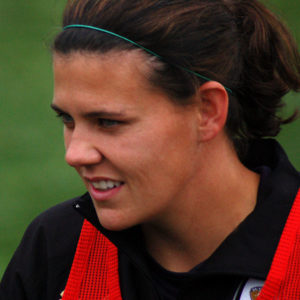 Canada has qualified for the 2019 Women's World Cup of Soccer in France. On Sunday from Frisco, Texas, Team Canada trounced Panama 7-0 in the semifinal of the CONCACAF Women's Soccer Championship.
Canadian icon Christine Sinclair of Burnaby, British Columbia scored two Canadian goals including the game winning goal in the 44th minute. She scored her other goal in the 49th minute to put Canada up 3-0 at the time. Janine Beckie of Regina, Saskatchewan also scored twice. Three other Canadians netted one goal. They were Jessie Fleming of London, Ontario, and Adriana Leon and Rebecca Quinn of Mississauga, Ontario.
The United States also qualified for the 2019 Women's World Cup of Soccer on Sunday. They beat Jamaica 6-0. Jamaica will now play Panama on Wednesday with the winner joining Canada and the United States at the Women's World Cup of Soccer. The loser of Jamaica and Panama still have a second chance of qualifying for France next year. They will play Argentina in a two-legged home and away playoff in November.
Other nations that have qualified in the Women's World Cup to date are France, China, Thailand, Australia, Japan, South Korea, Brazil, Chile, Spain, Italy, England, Scotland, Norway, Sweden and Germany. A total of 24 nations will compete from June 7-July 7, 2019.